As a union oriented, Industrial Pipe Fabricator located in Tuscaloosa, Alabama, Dixie Mechanical has built a national customer base, with shipments of spool pieces to destinations throughout the U.S. since 2002.
We are a Charter Member of the Pipe Fabrication Institute, and a holder of the ASME "S" & "U" Stamps, as well the National Board "R". All weld procedures and welders are certified per ASME B31.1 and B31.3, in accordance with ASME Section IX.
Dixie's 50+ certified welding procedures, as well as our Quality Program, have been audited by our country's major EPCs, OEMs and Owners in the power generation, chemical, petroleum refining, LNG and oil & gas industries.
Our pipe fabrication proficiency includes working with …
Carbon Steel
Low Temp Carbon Steel
Stainless Steel (300 Series & Duplex)
Nickel Alloys
Chrome Moly (P11, P22, P91 and P92)
… materials thru 2 1/4" wall thickness and 72" OD. We have fabricated spool pieces as long as 100' and our facility is uniquely positioned to ship by truck, rail and barge.
Project Management
Upon receipt of award, a dedicated project manager will be assigned to act as the single point of communication direct with your Team. Our project manager will create a detailed plan of action and is responsible for all submittals, scheduling, production and along with our quality team, making certain that your fabrication reaches its destination in compliance with contract specifications. If your project has priorities, our project manager will gladly work with you to accommodate your delivery needs. We can track the progress of your project on a daily basis by percent complete, welds complete, spool pieces shipped or diameter inches of weld. Dixie believes that open communication with the Customer is key to a successful project for both parties.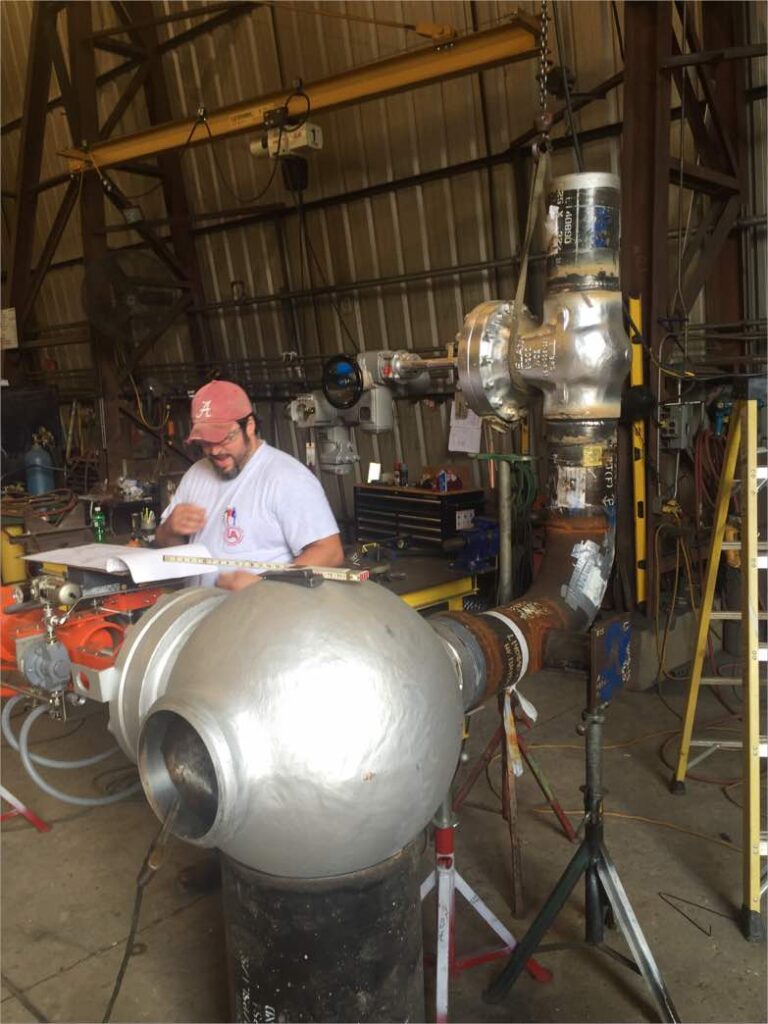 Quality
All aspects of the fabrication process are governed by an established Quality Assurance Program making certain that ALL actions are in full compliance with the requirements of:
The ASME Boiler & Pressure Vessel Code, Section, VIII Div. 1, B31.1 Code and
The National Board Inspection Code (NBIC)
At Dixie, our goal is to make quality priority one.  It starts when a material order is placed with the supplier by making sure all items are in accordance with the client's specifications and ASME requirements.  We request material test reports on all items of material we order, including weld material.  Upon material receipt, each item is visually inspected for any flaws as well as making sure it has a legible heat number.  Our quality group verifies an MTR has been received for each heat, then checks the chemical and physical characteristics of that MTR to ASME Section 2 making sure it meets those requirements.  A material item is only released into fabrication having a proper MTR and having met ASME requirements.
As fabrication progresses through the shop, each fit-up station performs another visual inspection of the material and records the heat number of each item on the shop sketch for traceability.  In addition, Quality performs random visual inspections on the fit-up of each joint making sure a proper gap has been employed and solid GTAW tack welds have been put in place.  Each tack weld is ground to a feather edge by the welder and consumed with the root pass of the weld.
Once the spool piece is complete, it is transferred to our QC area for a complete dimensional check, verification of proper material, review of heat numbers, recording of welder ID's, etc. before it is shipped to the client.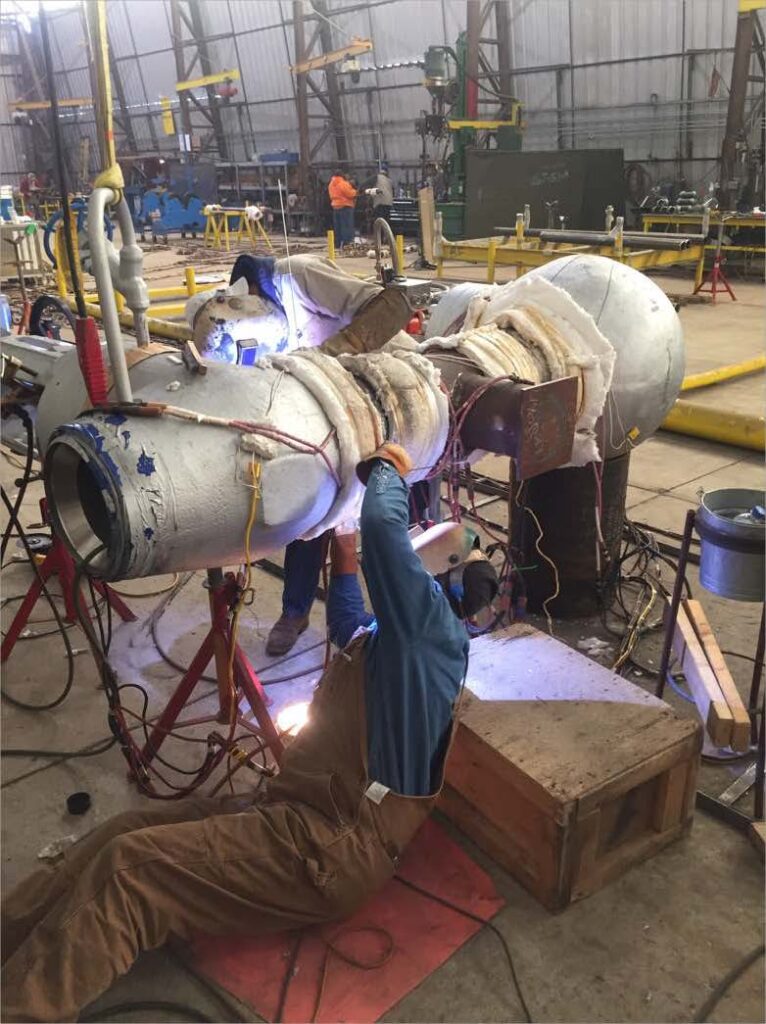 Additional Capabilities
In addition, we also can provide the following pipe related services:
Rubber and Urethane Pipe Lining
Jacketed Pipe
Victaulic Grooving
Small Bore Pipe Fabrication
Welding in Valves and Valve Assemblies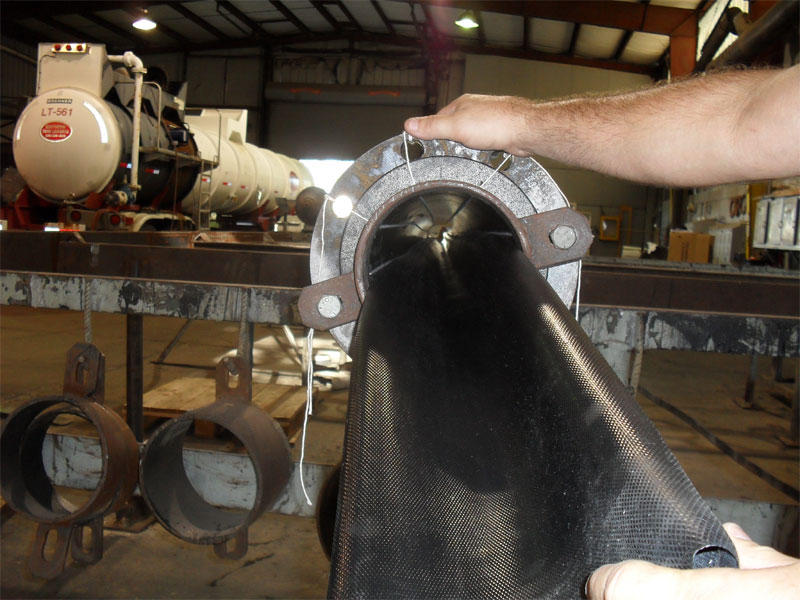 As projects become more and more time sensitive, Dixie has the capability to fabricate associated project components, reducing the need for our customers to create and monitor additional purchase orders. These components include:
Modular Pipe Racks
Process Skid Units
Pipe Hangers & Supports
Tanks
Chutes
Rectangular & Square Duct
Bins & Hoppers
Cones
From FEED through Project Execution, Dixie Mechanical Inc. will be your fabrication partner in successful project completion.