What started out as a routine day, a routine travel day, quickly changed. But, in the same breathe, is there really such a thing as a "routine" travel day?
It's five minutes before 11 a.m. CST on November 17 when Greg rings my doorbell. With my backpack over my shoulder, duffel bag in hand, and all the supplies we will need for our meetings, we head for Birmingham. Birmingham-Shuttlesworth International Airport is approximately one hour from my doorstep, giving us an ETA of Noon. Our direct flight is scheduled for 2:12 p.m. with arrival in Philadelphia set for 5:22 EST. Easy, right?
The drive to the airport is easy, security took all of ten minutes, and we had time to spare. After a quick lunch, we head to our gate. We arrive at gate B1 with 20 minutes before boarding begins. Then we get the announcement, our flight has been delayed 40 minutes. No big deal, flights get delayed all the time and this is a direct flight, so we won't miss a connecting flight. So, we sit back and wait.
With ten minutes to go before the delayed boarding time, we get the notification. The dreaded notification for anyone traveling via plane. Our flight has been cancelled. Delayed flight was no big deal, it happens – cancelled flight, okay we have meetings the next morning, how many options do we have? (Random thought: do you spell cancelled with one "l" or two?)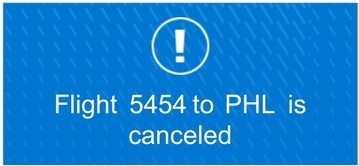 The only other direct flight to Philadelphia would leave two hours from this point, and is completely booked, not a single available seat. Our only other option is a flight to Charlotte with a short layover. A very short layover. If this first flight to Charlotte gets delayed, we could, and likely would, miss our connecting flight. At this point it is almost the same time that we would have landed in Philadelphia… and we're still in Birmingham.
We managed to get two seats on the flight to Charlotte, and two seats on the connecting flight from Charlotte to Philadelphia. We will make it. Everything will be just fine, only a few obstacles. Then we get the notification. Yep, you guessed it. Our new flight to Charlotte has been… delayed.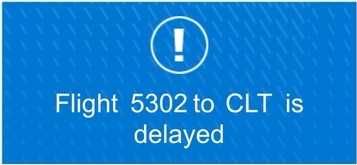 Now we begin to question whether we will make it to Philadelphia at all. With the delayed flight to Charlotte, that leaves us with a 20 minute layover. That leaves us 20 minutes from the time we land, taxi, finally deboard the plane and run to our next gate. Long story… well, long, we make it to our connecting flight from Charlotte to Philadelphia with no time to spare. We are two of the last four passengers to board the plane. They held the door for us. We were going to make it to Philadelphia. Only six hours passed our original ETA. We left my house in Tuscaloosa at 11 a.m. CST, we checked into our hotel at 11:30 p.m. EST. What an adventure?
We are finally able to get some sleep. We meet in the lobby the next morning awaiting our transportation, our very own Business Development guru who resides in New Jersey. Ed picks us up from the hotel and we are off to our first meeting. We had a sigh of relief as the meeting went smoothly, and for the simple fact that we were able to be there.
Part of business development is understanding the importance of relationships. Despite the journey that was traveling from Birmingham to Philly, we knew meeting with a few colleagues was important. So we have a few obstacles get in our way – that just makes for a good story on our website, right? This particular meeting in Philadelphia featured a client we have worked with in the past and with which we have thoroughly enjoyed all interactions. This meeting was no different. We shared a few laughs, shared lunch, caught up on latest business ventures (and adventures), reminisced, and gained a sense of mutual optimism that made Philadelphia sunny again.
After a positive meeting and lunch with our colleagues in Philadelphia, it was off to New Jersey. That afternoon we would make a stop for one more meeting before Ed would show us around his neighborhood. We enjoyed a dinner near our Dixie Northeast headquarters and then called it a night.
The following day we would have a few more meetings and lunch with past, current, and potential clients. All of which would provide significant insight and a positive outlook moving forward. We would head to Newark Airport that afternoon with a sense of relief for having made the trip in the first place, and with a sense of optimism after the two days of meetings, conversations, laughs, and handshakes.
We had a flight from Newark to Atlanta, then from Atlanta back to Birmingham. And, wouldn't you know it, both of those flights were delayed as well. Like our first night on this trip, we arrived to our destination at 11:30 p.m. local time. Turns out, even when life throws curve balls and cancels your flights, things still just might turn out okay. It did for us. I guess it was sunny in Philadelphia after all.
To read more blogs as they are released, subscribe to The Dixie Digest.
To learn more about who Dixie is, visit our About page.